The Eaton Branch - The Adoption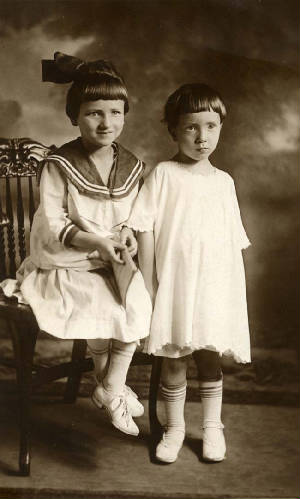 My mother sitting on the chair and
her sister Blanche Eaton standing.


Helen (Eaton/Lake) Smeal, my mother, was born on November 29, 1915. Her mother Reba H. (Sitzer) Eaton died of influenza on or about October 17, 1918. From that date until sometime in 1924 my mother lived with several relatives including, her aunt Daisy, her father and her maternal grandparents, William E. Sitzer and Helen Sitzer. In 1924 she went to live with Charles Tracy and Pearl Kresge Lake and in September, 1925, was adopted by them. The Lakes were the only grandparents with whom I had contact.

Grandfather Lake was a well-educated man. He obtained a Master of Science degree on June 15, 1936, from the University of Rochester, Rochester, New York. Grandfather Lake engaged in several vocations, including teaching for five years at A.M. Chesbrough Seminary which is now Roberts Wesleyan College, Rochester, New York. He was also a high school vice principal at Salamanca High School and principal of Kendal Central High School both in New York state for a total of 20 years. After retiring from public school teaching he taught for five years at Oakdale Christian High School, Jackson, Kentucky, until 1964.

Grandfather Lake was a biologist and naturalist. In 1936 he had an article entitled The Life History of the Fan-Tailed Darter Catonotus flabellaris flabellaris (Rafinesque) which was a contribution from the Department of Zoology, University of Rochester, published in the American Midland Naturalist, Vol. 17, No. 5 (Sept., 1936) pp. 816-830. The American Midland Naturalist has been published for about 100 years by the University of Notre Dame. I have memories of Grandfather Lake tending to his honey bees and his cottage along the shore of Lake Ontario at Lighthouse Christian Camp, Barker, New York.

Grandmother Lake was a homemaker and as a young woman worked in one of the five-and-ten cent stores operated by Sebastian S. Kresge, Jr., her uncle, the founder of the S.S. Kresge Company (later Kmart). Grandmother Lake's father was Alvin Henry Kresge and her mother was Susan (Fuller) Kresge. Grandmother Lake had two brothers, Ralph and Luther. She was able to attend my graduation from Messiah College in May of 1981. Grandfather Lake died in 1980 and Grandmother Lake in May of 1982. Charles Tracy and Pearl Kresge Lake were amazing grandparents. In 1969 they both were inducted into Roberts Wesleyan College's Hall of Fame for their service to the College, to other schools and to humanity in general.

I have uncovered very little information about the Eaton Branch of my family tree. Charles Perkins Eaton's father was Charles Emery Eaton and his mother was Harriet (Hattie) E. McCauley Eaton. Charles Perkins was born in 1888. A 1900 census record for Sullivan Township, Madison County, New York reveals that Charles Perkins was 12 years of age and living with his father, mother, brother and sister. The head of the household listed on the census record was Charles E. Eaton date of birth May 1856. Several Eatons are buried at the Oakwood Cemetery, Chittenango, New York.

My maternal (biological) grandfather, Charles Perkins Eaton, according to the adoption petition left my mother with the maternal grandparents.

The reasons for and the exact circumstances of his disappearance are unknown and what became of him was clouded in mystery until 2008 when I discovered his draft registration card, some census records and his death certificate. I do not fault him for leaving my mother with the maternal grandparents. I most likely would not be writing these words if he had done otherwise because my father met my mother at A.M. Chesbrough Seminary and my mother most likely would not have attended that school if she had not been adopted by the Lakes.